Featured Kitchen of the Month
When working with a client who has a galley kitchen I often get asked "what can I do with my kitchen?, it seems like I am stuck with the same design". This kitchen is a perfect example of how a simple galley kitchen can be transformed into one that is not only functional, but pleasing to the eye. When I started working with this couple, I found a galley kitchen with a table at the end. The house sits on the edge of the metro-parks with a beautiful view from the back. The first item discussed was to bring the outdoors in. This was accomplished by creating an opening in the dividing wall between the kitchen and the family area. The next step was to increase both counter space and storage. This was accomplished by integrating a fixed eating area against the wall. This area  looks built-in but is able to be pulled away from the wall when needed to seat an extra person. I ran a wall panel down to give the appearance of the table growing out of the wall. By going the route of the fixed table I was able to extend the counter and storage all the way to the end of the kitchen. Another feature to break up the galley was to visually create a different space with the cooking area. Notice how I pulled the cooking area forward to give the space dimension and I also changed the color to create visual excitement. One obstacle that we needed to overcome was the window being lower than the counter. We did not want to alter the architectural integrity of the home by raising the window so we put an herb box in instead. This is one of the favorite features of the kitchen. One word that has gotten a bad wrap in the past is the word "vinyl". Notice how interesting this vinyl tile floor is. It does an amazing job tying everything together. With the selection available today for vinyl flooring, one can have many opportunities available to create a functional and yet eloquent look to the space.
Knock Knock – Who's There?
Believe me this isn't a joke! Introducing Miele's newest in the line of award winning dishwashers, the G6885 SCVi k20 am. Keeping in character with the European minimalistic philosophy, this dishwasher requires only 2 knocks from you to automatically open. This dishwasher also includes features that make Miele the world's leader in dishwashers. Automatic half load sensor, original flatware tray on top, superior washing results, ever so quiet, and clean air-drying technology by the intake of room air from a side intake system within the unit. This unit makes a fantastic addition to any kitchen.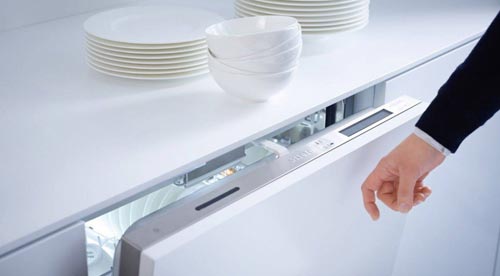 https://www.thehalldesigngroup.com/wp-content/uploads/2018/05/hays5.jpg
420
500
John Hall
https://www.thehalldesigngroup.com/wp-content/uploads/2016/11/hall-logo158.png
John Hall
2018-05-21 13:58:28
2018-08-02 15:34:15
A Fresh Take on the Galley Kitchen – May 2018