This month I am proud to present to you 2 incredibly special Master baths. As you will see each Master Bath offers a quite different look but at the end of the day the 2 projects had very similar requests that were met.
Highland Heights Master Bath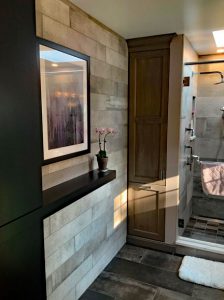 This project was an exciting one in which I was presented with a broken up space with several small areas such as a closet etc. The space inspired me to open it up and create a spa type feel. The client was accommodating in that they allowed me to use my creative abilities and not only meet their functional needs but to at the same time create interest. One of the many focal points to the bath is the glass divider panel to hide the commode. By using the glass panel instead of a wall, I was able to give a separation while at the same time allowing natural light thru. Located within the panel channel is LED strip lighting which gives a stunning view when lit thru the glass. One can also find the LED lighting within the toe kick of the cabinetry. Opposite the panel is the feature wall to the bath.
I organically extended a shelf from a floating tall medicine cabinet. Notice how I also had a tile feature wall behind it. At the end of the bath, you will find a large walk-in shower. A request from the client was to also have a large shower door so down the road should the need arise to have a walker or assistance to shower getting in would still be comfortable. Some other features to this bath include a make up area, a de-fogging mirror to shower, a large shower bench, a skylight, a hamper and much more.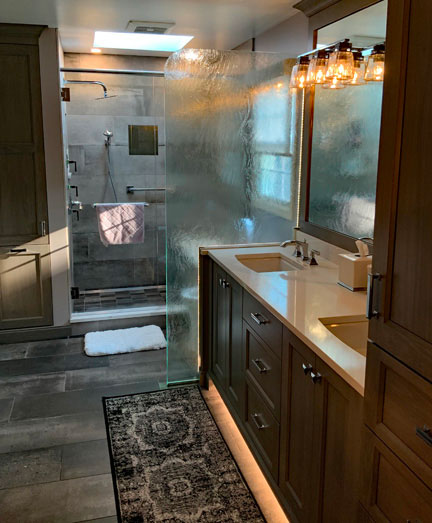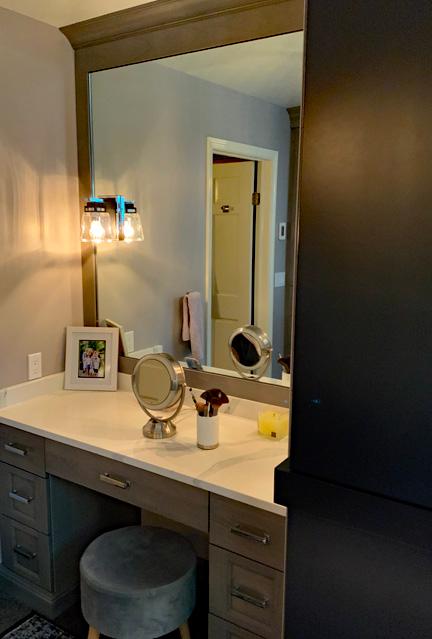 Gates Mills Master Bath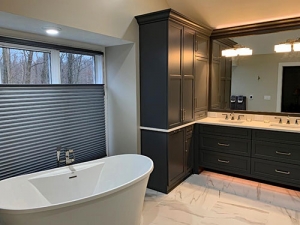 I had the honor to do this client's kitchen several years ago and was so honored when they called me to be a part of not only their Master bath, but also 2 other baths. Each one turned out so special in their own rights. Looking at both projects you will notice a totally different aesthetic appearance, but from a functional standpoint so many similarities. Where the previous bath desired a warmer feel with the use a more natural materials, this Master Bath takes on a more classic feel.
The use of marble looking porcelain tiles so beautifully accent the character of both the client and their home. One of this client's main desires was a free-standing tub. This gave me the opportunity to have it become one of the focal points of the space. Another feature is the large walk-in shower. The client also desired a large door and area once inside the shower to maneuver about should the need in the future ever arise to need it. One of my favorite parts to this bath is the heated floor. It really makes a difference in these cold winter days to come in and have a toasty warm floor. Some other features to this bath are as follows. LED lighting under the vanities, large chased out drawers under the sinks, a vaulted ceiling, a hamper and floating shelves to allow for an accent area within the space.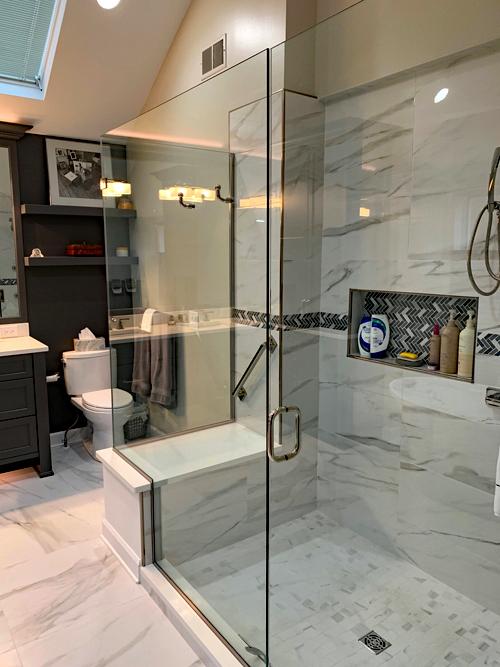 Winter Webinar Series Debut
Well, here we go again. This Saturday, December 19th our Fall Webinar Series comes to a close with the bonus webinar "Where Do I Begin?", then, the ever-popular webinar series continues with the winter schedule just released. Mixed in within the popular topics you will find some new exciting topics which include "Kitchen trends 2021" (so nice to say 2021!), "Selecting The Right Kitchen and Bath Plumbing Fixtures", "Selecting The Proper Floor For Your Space", "A Study of Countertops", among many more.
The webinar series will always have a place close to my heart. It was started to brighten up the darkest days of the pandemic and to give you something to look forward to and to take advantage of the "down time" by educating yourselves so you would "hit the ground running" when the time came. I am so blessed to have received so many emails and texts on what the series means to you. I am so very humbled and honored by your notes and to be able to offer these webinars to you. So please, keep enjoying.
January 16th:
9:00: Kitchen Trends 2021
10:00: A Study Of Countertops
January 30th:
9:00: 25 Tips Towards A Perfect Kitchen
10:00: Selecting Plumbing Fixtures For Your Kitchen
February 13th:
9:00: Selecting Cabinetry Thats Right For You
10:00: Selecting The Proper Flooring For Your Space
February 27th:
9:00: Selecting Appliances To Fit Your Needs And Budget
10:00: The Kitchen Layout: A Study Of Guidelines To Follow
March 13th:
9:00: The Bath Layout: A Study Of Guidelines To Follow
10:00: Selecting Plumbing Fixtures For The Bath
March 27th:
9:00: Accessorizing The Kitchen
10:00: Designing The Home Office
April 10th:
9:00: Why "Design Only" May Be The Best Fit For You
Sign Up Now!
Webinars are running free of charge at this time. Please contact Celina at Celina@thehalldesigngroup.com or 216-905-7177 to register for one or both webinars.
https://www.thehalldesigngroup.com/wp-content/uploads/2020/12/gates-mills-bath-01.jpg
375
500
John Hall
https://www.thehalldesigngroup.com/wp-content/uploads/2023/03/JHDI-color-logo-white-text.png
John Hall
2020-12-22 10:57:28
2020-12-22 11:04:01
A Tale of Two Baths