What is the difference between stock cabinetry and custom cabinetry?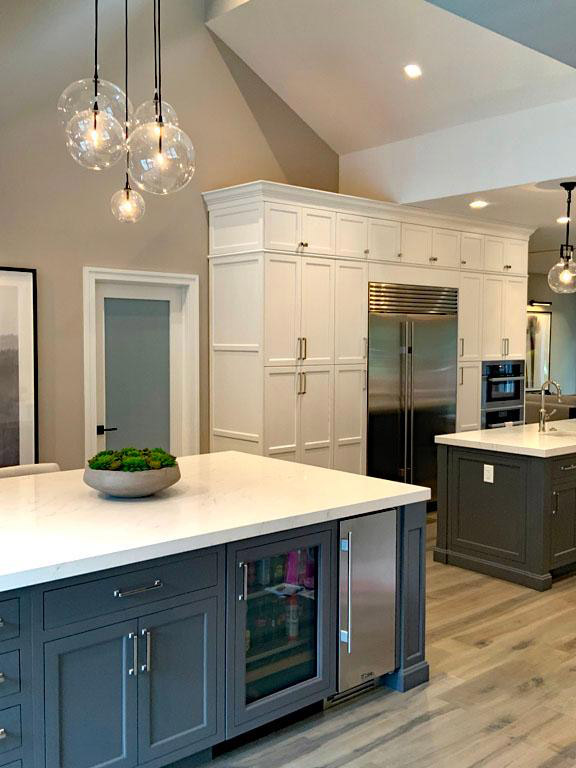 Purchasing cabinetry for a kitchen remodel is both an exciting time and also a very anxious time. The cabinetry will be the biggest investment in the project so you will want to make sure you educate yourself on all of the options as you move forward.
I like to compare the kitchen cabinetry purchase to the selection of your automobile. All of the cars will get you to the same place but some will last longer and give you more options. Also you should not think that stock kitchen cabinetry won't hold up and that kitchen cabinetry is not affordable.
Stock cabinetry is very simple. These are cabinets that are pre-maid in certain sizes and finishes. When designing your kitchen you will be limited as to what you can do with the space. An example of this would be that many people are wanting to hide their TV today in the kitchen. One common method that I use is to put the TV behind a pair of retractable doors that when in use are slid back into an opening. Or if you desire a split panel wall cabinet door with glass on top. This is not possible with kitchen stock cabinetry ( you will need to stack). Another thing to consider is that you will be limited to basic woods and finishes. A big advantage with stock cabinetry is that the price tends to be less and also the lead times are lower.
Custom cabinetry in the kitchen offers much more flexibility as you are designing the kitchen. The wood for the cabinets awaits you on a wood pile and you can design the cabinetry to fit your exact needs. Some examples of this include measuring your pots and pans to get an exact fit into the cabinetry. Having the base cabinets raised or lowered to meet the comfort height of your kitchen counters. Custom cabinetry also excels with regards to the wood selection and also the finish process. Custom kitchen cabinetry allows us to also consider exotic woods such as walnut, alder, quarter sawn oak amongst many others. The options in regards to the finish are endless. One can bring in an antique table from grandma and it can be matched. Should you desire paint then any paint color can be duplicated to create a harmonious space. With custom cabinetry the price tends to be more and the lead times longer.
There is one more type of kitchen cabinetry that should be considered when remodeling your kitchen. These are called "semi-custom" cabinetry. Semi-custom cabinetry is a blend of both of the above. Most of the kitchen can be stock and should there be a couple of pieces that require custom work they can be sent to the custom section of the plant and you will only pay the price for that particular piece. This is a highly popular choice and one that is used quite a bit when remodeling a kitchen.
https://www.thehalldesigngroup.com/wp-content/uploads/2016/11/hall-logo158.png
0
0
John Hall
https://www.thehalldesigngroup.com/wp-content/uploads/2016/11/hall-logo158.png
John Hall
2014-07-15 13:40:48
2022-10-27 12:32:45
What is the difference between stock cabinetry and custom cabinetry?