What Should I Expect From My Kitchen & Bath Designer?
The most critical part of starting a kitchen and bath remodel is finding the right person to guide you through the process from start to finish. I always tell my students and clients that you will end up "marrying" this person for the next several months so make a smart choice when hiring this individual.
A good kitchen and bath designer must excel in three categories to be effective. The first is to have great communication skills. To have a design meet you're every need this person must be able to listen to all of your wants and needs and then convey them into a design that works for you. The second category is to be a creative designer that can take the kitchen or bath and not only make it functional but also bring some excitement and creativity into the space. The third category but certainly not the least important is to find a kitchen and bath designer that has the technical experience to make the project smoothly transition from the original design concept to that of a set of working plans and then into the construction phase.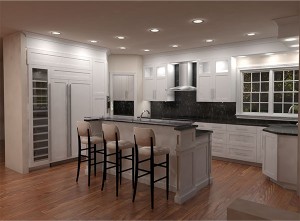 The kitchen and bath designer should be strong in all phases of the construction process. This includes construction, plumbing, electrical and much more. When interviewing the kitchen and bath designer one should find out what you can expect in the way of design drawings. The minimum to expect is a floor plan. I would strongly suggest that the designer also include a set of elevations. Elevations define the plan and make it so much easier for you to understand the scope of the kitchen or bath plans. I would also strongly suggest to have colored renderings presented. The renderings today are photo realistic and will greatly help you visualize the final result.
As you can see throughout my website I am a big believer in educating rather than selling. There are so many selections to be made and I would definitely find a designer with product knowledge that will be willing to be by your side and assist you in making all of the smart choices as you move through the project. This will eliminate wrong choices being made and save you so much time and money in the end by limiting the mistakes down to nothing.
The last trait that I would look for in a kitchen and bath designer is to find one with a passion for what they do. This will make the entire process "fun".
Good Luck!
https://www.thehalldesigngroup.com/wp-content/uploads/2016/11/hall-logo158.png
0
0
John Hall
https://www.thehalldesigngroup.com/wp-content/uploads/2016/11/hall-logo158.png
John Hall
2014-08-04 08:42:03
2022-10-27 12:34:02
What Should I Expect From My Kitchen & Bath Designer?