Granite vs. Quartz Countertops: Which is for me?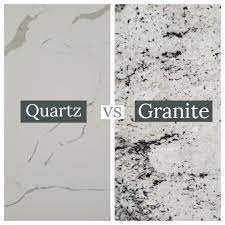 When it comes to remodeling your kitchen, one of the most exciting parts is choosing your countertops. In the past, granite has long been a favorite when it comes to countertops, but Quartz is quickly outpacing granite in the kitchen. There are several reasons for this, all of which should be considered when choosing a countertop that best fits your needs.
When it comes to granite, you are looking at a 100% natural stone, whereas quartz is an engineered stone. This can be a positive or a negative depending on which way the buyer views it. A granite countertop is unique in that each slab of granite will be slightly different. This also, however, makes it more difficult to find the perfect piece for you, and may limit your options when it comes to extending countertops or replacing one that breaks. Quartz is more uniform in appearance and you may have an easier time finding a slab that fits your color scheme.
One of the major differences when it comes to these two materials is durability. Granite is a porous stone, and therefore, requires maintenance. Upon installation, your granite will be sealed and will require upkeep and re-sealing. There is the option for a 15 year sealant when your granite is first installed which certainly helps. Granite, as a natural stone, also may have flaws, which makes it more susceptible to chips and cracks. Due to granites porous texture it is also more likely to absorb oils or liquids and stain. Like other hard surface countertops, Quartz contains a resin that resists stains and cracks. Quartz is extremely durable and can withstand juices, oils, coffee, and even wine. Its also less likely to harbor bacteria and is relatively easy to keep clean. Quartz, however, does not withstand heat as well as granite, which is something to take into consideration.
When it comes down to cost on these two materials, they are both high quality products. Quartz is a mid-range price stone and granite offers a wide price range depending on the color, style and texture. Both granite and quartz have their advantages and it is a personal preference what the home owner prefers in their home.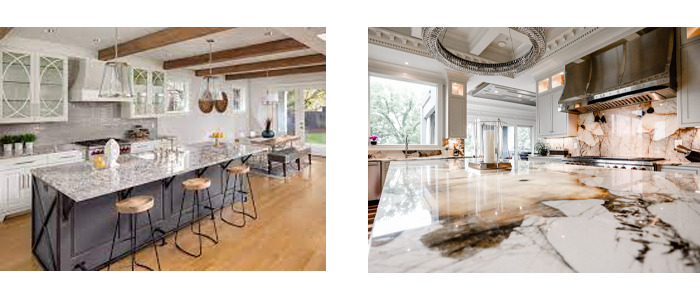 https://www.thehalldesigngroup.com/wp-content/uploads/2021/07/Unknown-3.jpeg
225
225
John Hall
https://www.thehalldesigngroup.com/wp-content/uploads/2016/11/hall-logo158.png
John Hall
2021-07-22 11:43:04
2021-08-06 10:26:21
Granite vs. Quartz Countertops: Which is for me?